Edom Peeling Gel
Edom Facial Peeling Gel. Suitable for All Skin Types.
Item # : CS2004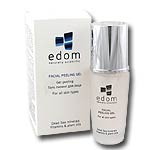 Stock Review
Brand:Edom Formula:All Skin Types - In Stock
Edom Peeling Gel

Edom peeling gel is a unique facial gel, specially formulated for a very gentle peeling. Enriched with Vitamin E, Algae Extract, Aloe Vera extract and Dead Sea minerals - it exfoliates, removing dead skin cells in seconds. Leaves skin smooth, vital and soft.

30 ml e 1 fl.oz

Application: Apply a small amount and gently massage using circular motions. Rinse with warm water and moisturize.
Edom Dead Sea is a rejuvenating and revitalizing skin care products range rich in minerals from the Dead Sea blended with vitamins and oils. Edom Dead Sea products are manufactured in accordance to EEC and FDA regulations. The products are PH neutral and improve vitality and overall appearance of the skin. Products are suitable for individual use as well as professional use in spas and beauty salons.
Review this product
Please log into your account to Add Your Comment.