Edom Dry Climate Skin Care Kit
Edom Dead Sea Kit for Dry Climates: Hydrating Day Cream, Eye Lifting Serum and Ocean Mist Body Butter
Item # : CS2064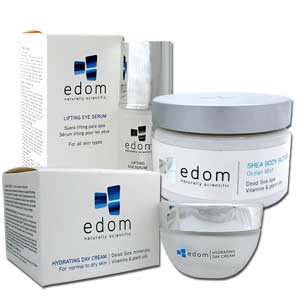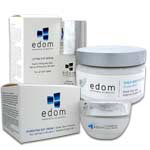 Stock Review
Formula:All Skin Types - In Stock
Dry Climate Skin Care Kit
Dead Sea cosmetics kit for dehydrated skin.
Living in dry climates can push your skin to its limit rendering it dry, lifeless and aging fast. The most immediate need of such a skin is nutrition and moisture.
The Edom Dry Climate skin care kit is designed to provide your skin with the vitamins and nutrients it requires in order to protect itself against these harsh environmental conditions.
Besides constant moisture the products in this kit are enriched with a scientific formula called CellvitinTM, which contains a specific blend of Dead Sea minerals with natural plant oils and vitamins.
Kit includes:
Edom Day Hydrating Cream
50 ml e 1.7 fl. oz
Edom Eye Lifting Serum
30 ml 1 fl.oz.
Edom Ocean Mist Body Butter
300 ml. e 10.2 fl. oz.
Review this product
Please log into your account to Add Your Comment.