Edom Shea Body Butter. Coconut-Vanilla.
Edom Shea Body Butter. Coconut-Vanilla-scented. Enriched with with Dead Sea minerals and anti-oxidants. 300 ml e 10.2 fl.oz. 
Item # : CS2011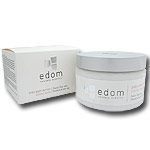 Stock Review
Formula:All Skin Types Size:300 ml. / 10.2 fl.oz. - In Stock
Edom Shea Body Butter.
Coconut Vanilla scented.

Edom Coconut Vanilla Shea body butter moisturizes and nourishes the skin. It restores elasticity and fights free radicals which are involved in skin- aging processes. Contains Dead Sea minerals and rich in shea butter, almond oil, grape seed oil and vitamins A, D & E. Skin will be left feeling smoother and healthier. The long lasting scents of Coconut and Vanilla oils complete the fresh, invigorating experience for both body and spirit.

Suitable for all skin types.

300 ml e 10.2 fl.oz.

Application: Massage all over body as often as required.

Edom Dead Sea is a rejuvenating and revitalizing skin care products range rich in minerals from the Dead Sea blended with vitamins and plant oils. Edom Dead Sea products are manufactured in accordance to EEC and FDA regulations. The products are PH neutral and improve vitality and overall appearance of the skin. Products are suitable for individual use as well as professional use in spas and beauty salons.
Review this product
Please log into your account to Add Your Comment.