Edom Dead Sea Bath Salt.
Edom Dead Sea Bath Salt. Unscented. 250 gr e 8.75 oz
Item # : CS2027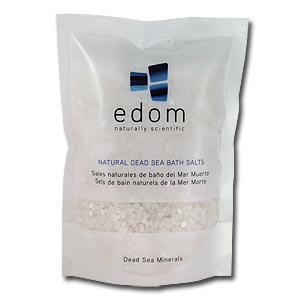 Stock Review
Formula:All Skin Types Size:500 g / 17.6 oz - Out Of Stock
Formula:All Skin Types Size:250 g / 8.75 oz - Out Of Stock
Edom Dead Sea Bath Salt



100% pure and unscented, mineral-rich, Dead Sea bath salts.
Dead Sea minerals are known worldwide for their exceptionally invigorating, beautifying and purifying properties. A Dead Sea salt bath relaxes tired muscles and relieves tension and stress. It sooths the skin while keeping it soft and smooth. Used regularly, Dead Sea bath salt can
also aid in the alleviation of pain associated with rheumatism and skin disorders such as Eczema and Psoriasis.

Suitable for all skin types.

Available in two sizes:
Small - 250 gr e 8.75 oz (bag)
Large - 500 gr e 17.6 oz (Jar)

Directions: Dissolve 1/4-1/2 of package amount in a bath partially filled with hot water. Add cold water to adjust temperature and soak in bath for 15-20 minutes. Rinse thoroughly.

Notes: For external use only. Avoid contact with eyes.

Edom Dead Sea is a rejuvenating and revitalizing skin care products range rich in minerals from the Dead Sea blended with vitamins and oils. Edom Dead Sea products are manufactured in accordance to EEC and FDA regulations. The products are PH neutral and improve vitality and overall appearance of the skin. Edom products are suitable for individual use as well as professional use in spas and beauty salons.
Review this product
Please log into your account to Add Your Comment.