Edom Anti Wrinkle Cream Q10
Edom Anti-Wrinkle Cream Q-10. Suitable for normal to dry skin. 50 ml. e | 1.7 fl.oz.
Item # : CS2002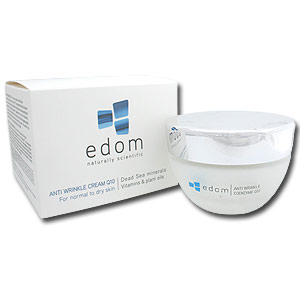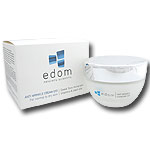 Stock Review
Brand:Edom Formula:Dry Size:50 ml / 1.7 fl.oz. - In Stock
Edom Anti-Wrinkle Cream

Edom anti-wrinkle cream is an innovative Dead Sea facial cream enriched with coenzyme Q-10, vitamins A & E and Dead Sea minerals. These elements are essential for protecting the skin against aging. The cream is rapidly absorbed into the skin preserving natural moisture and elasticity. It helps controlling and reducing the appearance of fine lines and wrinkles. Increases skin firmness. Leaves skin soft, vital and smooth.

50 ml. e | 1.7 fl.oz.

Application: Apply daily to cleansed face and neck.

Edom Dead Sea is a rejuvenating and revitalizing skin care products range rich in minerals from the Dead Sea blended with vitamins and plant oils. Edom Dead Sea products are manufactured in accordance to EEC and FDA regulations. The products are PH neutral and improve vitality and overall appearance of the skin. Products are suitable for individual use as well as professional use in spas and beauty salons.
Review this product
Please log into your account to Add Your Comment.