Ceramic Kfar Nahum Coffee Mug.
Coffee Cup with wrap around image of kfar Nahum. Ceramic. Holds 11 fl oz | 325 ml of liquid
Item # : SA021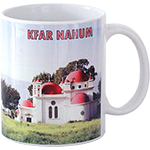 Stock Review
Type:Coffee Mug - In Stock
Ceramic Kfar Nahum Coffee Mug. Capernaum (Kfar Nahum)is located in the North of Israel on the shores of the Sea of Galilee. Kfar Nahum (Capernaum) Synagogue and Church. A site where Jesus preached; remains of a town with a large synagogue, and St. Peter's house. Kfar Nahum also has an exceptionally beautiful Greek Orthodox church, built in 1931. The church building is pure white, with several bright red domes forming its roof. There is also a Catholic church, built on eight pillars above Peter's house. A fabulous way to wake up & start your day with a cup of coffee . Not just a cup , but a cup that hold a view of the biblical site. Coffee mugs make for great souvenirs & collectibles from Israel.
Review this product
Please log into your account to Add Your Comment.