Blessings & Good Wishes Mezuzah
This stunning nickle-plated mezuzah is embossed with Hebrew words of Blessing and Good Wishes such as 'life, happiness, prosperity, luck, love' all the good things you want for the home's inhabitants. Height: 6 1/2 inches | 16 cm
Item # : MZ902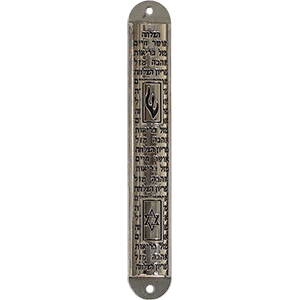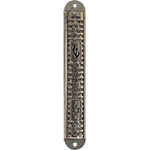 Stock Review
Color:Silver Design:Shadai Height:6 inches Size:Large - In Stock
Blessings & Good Wishes Mezuzah

When you hang a mezuzah you only have good thoughts of your love of God and the following of His commandments. This mezuzah follows this with words of blessings and good will for all who will pass through that doorpost. Embossed in Hebrew text are these words of good will such as, "'success, life, happiness, prosperity, luck, love". It is a beautiful mezuzah with a lovely sentiment.
Review this product
Please log into your account to Add Your Comment.