Teardrop Eilat Stone Earrings in Sterling Silver
Sterling Silver Earrings set with Eilat Stone in the shape of a teardrop. Dangling earrings with lever back hooks. Height not including hook: 1 inch | 2.5 cm 15
Item # : ER020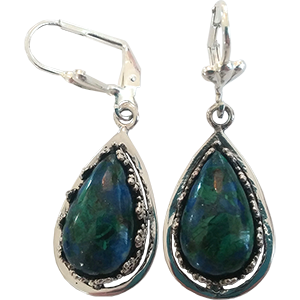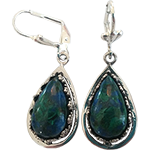 Stock Review
Earring Style:Dangling Size: - Out Of Stock
Teardrop Eilat Stone Earrings in Sterling Silver

Earring Dimensions: 1 x 1/2 inch | 2.5 x 1.5 cm

Classy Eliat stone earrings in the shape of a teardrop. The setting is sterling silver with scalloped edges. Earrings have lever back hooks for an elegant but secure closure.

The Eliat Stone, also known as the King Solomon Stone, is the national stone of Israel. Both names are derived from its notable mining location close to the Red Sea – King Solomon's copper mine near the city of Eliat. A natural composite of the minerals malachite, turquoise, azurite, and chrysocolla, its flamboyant color ranges from turquoise to deep green and has the striking characteristic of no two being alike.
Review this product
Please log into your account to Add Your Comment.