14kt Gold Small Arched Star of David
Small 14kt Gold Star of David with a finished polished to a bright sheen. The star gently arches away from the skin for interest and beauty. Made by renowned Israeli Jeweler Ben Sadya of Ben Jewelry. Size: 1/2 x 1/2 inch | 1.1 x 1.1 cm
Item # : PN9002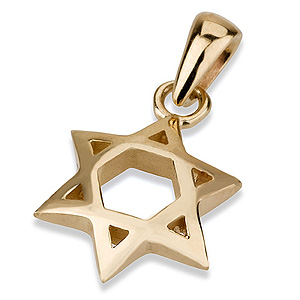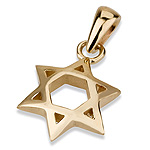 Stock Review
Material:14k Gold - In Stock
14kt Gold Small Arched Star of David

A delicate 14kt gold Star of David pendant with a finished polished to a bright sheen. The star gently arches away from the skin for interest and beauty.

Size: 1/2 x 1/2 inch | 1.1 x 1.1 cm

Ben Jewelry
Ben Jewelry creates unique and beautiful pendants, rings and earrings made from superior quality materials. Ben Sadya, designer, craftsman and company founder, spent his childhood learning the craft of jewelry making in the Sadya family workshop. The Sadya family is a distinguished family of Israeli jewelry designers and silversmiths once appointed to make jewelry for the Royal Court of Yemen.
Ben opened his own workshop in 1991 and merged modern design with traditional Yemenite techniques creating his own special personal style. His refined and detailed workmanship paired with gorgeous, elaborate designs make him beloved internationally. Each piece is designed to show that he is inspired by the tradition and religion found around him in the Holy Land. He has earned widespread international recognition for his artistry and exceptional technique. Sophisticated and stylish, there is a piece from Ben
Jewelry to suit even the most discriminating tastes.
Review this product
Please log into your account to Add Your Comment.