Grafted In Roman Glass Pendant. Dove of Peace
Sterling Silver and Roman Glass Pendant with the Dove of Peace
Item # : PN210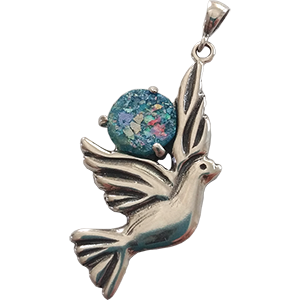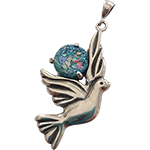 Stock Review
Material:Silver Size:Small - In Stock
Dove of Peace Roman Glass Pendant

Sterling silver and Roman glass mandorla pendant featuring the Messianic Grafted In symbol.

Height:
1 1/2 inches / 3.8 cm

This is a piece that no one can ignore. It has a strong presence and it is a clear indication of a sense of style.
Each pendant is different because of the different hues in the shard of Roman Glass used.

Roman Glass is rare and very special. It has been in the ground for thousands of years allowing it to acquire a beautiful patina filled with irridescent colors.
Review this product
Please log into your account to Add Your Comment.