Jerusalem Cross Necklace by Michal Kirat
Sterling Silver and Roman Glass Jerusalem Cross Necklace. Design by Michal Kirat.
Item # : PN201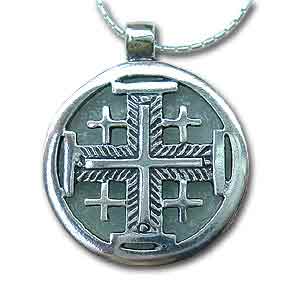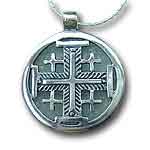 Stock Review
Material:Silver - In Stock
Jerusalem Cross Necklace

Handmade in a Galilee Kibbutz by the renowned Israeli artist Michal Kirat.

Genuine piece of Roman Glass inside a Sterling Silver setting designed in the shape of the Jerusalem Cross. To read more about the symbolism and meaning of the Jerusalem Cross, please refer to our glossary under the JesusBoat.com Learning Center.

Roman Glass, as it is termed, is a luminous type of glass found in Israeli archaeological sites. It dates back to 1st Century BC, the Roman Empire Era. Each shard of glass is unique. Therefore, each piece of jewelry it is set into becomes one-of-a-kind.


*Please note the color of glass may vary.
*Includes Certificate of Authenticity.
*Roman Glass does not like water. Please do not get your Roman Glass wet.
Review this product
Please log into your account to Add Your Comment.