Shema Yisrael Black Onyx and Silver Necklace
Sterling Silver with Black Onyx Necklace inscribed with the first line of the Shema in Hebrew. Length: 19 3/4 inches | 50 cm
Item # : KJ017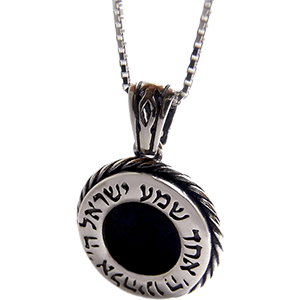 Stock Review
Jewelry Type:Necklace - In Stock
Shema Yisrael Black Onyx and Sterling Silver Necklace

Striking sterling silver necklace with a beautiful disc of black onyx in the center. The silver portion is made of two circles one twisted and the other inscribed in Hebew with the first line of the Shema Yisrael, "Hear, Israel, the Lord is our God, the Lord is One." (Deuteronomy 6:4). This necklace could easily be worn by a woman or a man. It is perfect for that stylish person who declares to the world their belief in the One True God.

Sterling silver chain length is 19 3/4 inches | 50 cm.


Review this product
Please log into your account to Add Your Comment.