Psalm 91:11 His Angels Silver and Black Zircons Necklace
Sterling Silver disc with Psalm 91:11 in Hebrew and embedded with a lovely ring of black zircons. Diameter: 1 inch | 2.4 cm, Chain Length: 19 3/4 inches | 50 cm
Item # : KJ016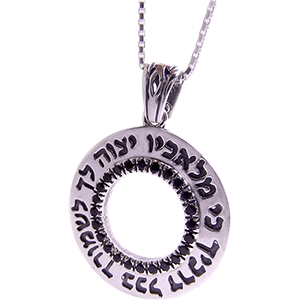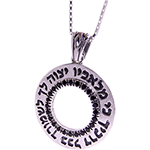 Stock Review
Jewelry Type:Necklace - In Stock
Psalm 91:11 His Angels Sterling Silver and Black Zircons Necklace

This necklace has an elegant sterling silver pendant with the scripture Psalms 91:11 inscribed in Hebrew around the disc. The uplifting verse says, For he will command his angels concerning you to guard you in all your ways." Wear this verse around your neck as a reminder that God is always protective of His faithful and even sends His angles to do His Divine Providence. This necklace will be a blessing to all who wear it.

The sterling silver chain is 19 3/4 inches | 50 cm long and the pendant has a diameter of 1 inch | 2.4 cm.
Review this product
Please log into your account to Add Your Comment.