Silver Israel 'He will command his angels' Psalm 91:11 Necklace
Sterling Silver Necklace in the inspiring shape of Israel inscribed with Psalm 91:11 in Hebrew. Chain length: 19 inches | 50 cm
Item # : KJ013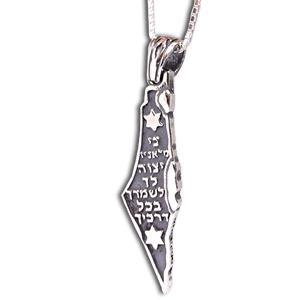 Stock Review
Jewelry Type:Necklace - In Stock
Sterling Silver Israel Psalm 91:11 Necklace

Psalm 91 is sometimes refered to as the Travellers' Prayer. It is a beautiful Psalm about God's protection. This amazing sterling silver necklace has a pendant in the shape of Israel and the verse Psalm 91:11 is inscribed on it in Hebrew, "Ki malahav yesaveh lechah lishmerechah bekol darkechah", English, "For he will command his angels concerning you to guard you in all your ways." This is the perfect sentiment for Israel and for anyone who makes their way in the world walking in God's chosen path.

The necklace chain is 19 inches | 50 cm long, but other lengths are available upon request.
Review this product
Please log into your account to Add Your Comment.