Ana Bekoach Silver with Gemstone Zircon Necklace
Sterling Silver Necklace with a sparkling Zircon Gemstone inscribed with the prayer Ana BeKoach. Necklace length: 19 inches | 50 cm
Item # : KJ012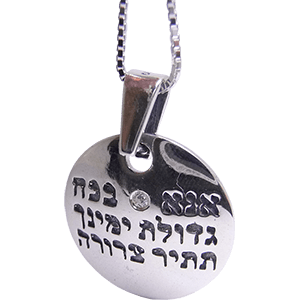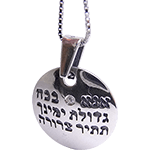 Stock Review
Jewelry Type:Necklace - In Stock
Ana Bekoach Sterling Silver with Gemstone Zircon Necklace
Ana Bekoach prayer is often called the 'Miracle Prayer' because of the powerful feeling people have after reciting it. In Judaic tradition is it said during morning prayer, after Parashat HaKorbanot, and sometimes during Kabbalat Shabbat and after the counting of the Omer.

The prayer consists of seven lines, six words per line. According to Jewish Sages there is a 42-letter name of God which is unpronounceable for mortals and only able to be sung by the angles. However, this powerful name of God is formed by the combined initials of the words of this prayer. The letter order is related to the seven days of creation and many believe this prayer evokes the power of the creation.
Because God's name is mentioned in the hymn, it is followed by: "blessed is His Honorable Majesty for all eternity", as is done in other readings mentioning God's name, such as the Shema Yisrael and the Aaronic Blessing.

The necklace chain is 19 inches | 50 cm long, but other lengths are available upon request.
Review this product
Please log into your account to Add Your Comment.