Shema Yisrael Blue Zircon and Silver Necklace
Sterling silver with bright blue zircon pendant inscribed with the Shema Yisrael in Hebrew. Necklace length: 19 inches | 50 cm
Item # : KJ010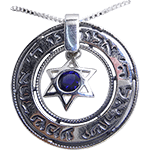 Stock Review
Jewelry Type:Necklace - In Stock
Shema Yisrael Blue Zircon and Silver Necklace

This beautiful necklace has a delicate Star of David and it its center a bright blue zircon gemstone. Encircling the Star of David is a ring of sterling silver emblazoned in Hebrew with the Shema Yisrael -- the original statement and acknowledgement of belief in the One True God. The scripture can be found at Deuteronomy 6:4 and states, "Hear, O Israel, The Lord is our God, The Lord is One." Wearing this necklace is a powerful way to show your faith in the One True God.

This necklace chain is 19 inches | 50 cm, however, other lengths available upon request.
Review this product
Please log into your account to Add Your Comment.