72 Names of God Silver and 9kt Gold Cat's-eye Necklace
Sterling Silver and 9kt gold necklace with Cat's-eye gemstone and inscribed with the 72 Names of God. Pendant diameter: 1 inch | 2.5 cm; Chain length: 19 inch | 50 cm
Item # : KJ009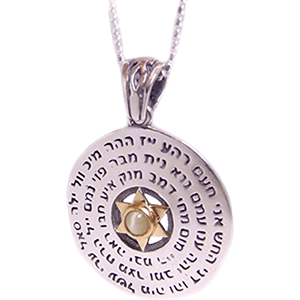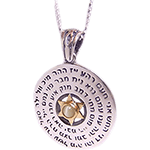 Stock Review
Jewelry Type:Necklace - In Stock
72 Names of God Sterling Silver and 9kt Gold Cat's-eye Chrysoberyl Necklace

This necklace consists of a sterling silver disk emblazoned with the 72 Names of God. The 72 Names of God come from the scripture Exodus 14:19-21. The names are not literally written in this scripture, but are revealed through a formula of 72 sequences of Hebrew letters encoded in the Biblical story of the parting of the Red Sea. At the center of the pendant is a 9kt gold Star of David and in its center is a beautiful Cat's-eye Chrysoberyl. The pendant comes on a sterling silver chain.

The diamter of the pendant is 1 inch | 2.5 cm and the length of the chain is 19 inches | 50 cm, although other lengths can be provided upon request.
Review this product
Please log into your account to Add Your Comment.