Hashem Deuteronomy 28:58 Silver Necklace
Sterling Silver Star of David with the Hebrew letter "ה" in the center standing for 'Hashem' as found in Deuteronomy 28:58. Pendant height: 1/2 inch | 0.5 cm Chain length: 19 inches | 50 cm
Item # : KJ004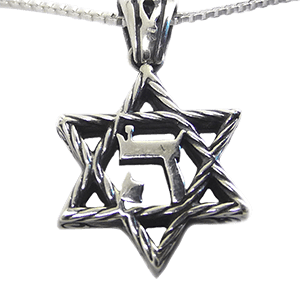 Stock Review
Jewelry Type:Necklace - In Stock
Hashem Deuteronomy 28:58 Sterling Silver Necklace

The word Hashem is the name of God, literally, Hashem means "The Name." The word Hashem appears in scripture in Deuteronomy 28:58 which instructs of the consequences for not following His Word, "carefully follow all the words of this law, which are written in this book... revere this glorious and awesome name—Hashem." Wearing this Star of David necklace with the Hebrew letter ה staning for Hashem shows that you follow Him and revere His name. It is suitable for both men and women.

Pendant height is 1/2 inch | 0.5 cm and the chain length is 19 inches | 50 cm, however other lengths are available upon request.
Review this product
Please log into your account to Add Your Comment.