Olive Wood Nativity Ornament
From from 100% genuine olive wood in Bethlehem. This Christmas ornament is a mini-Nativity scene. Measures approximately 2 3/4 inches (7 cm) high x 2 1/2 inches (6,5 cm) across x 1 1/8 inch (3 cm) deep
Item # : DC029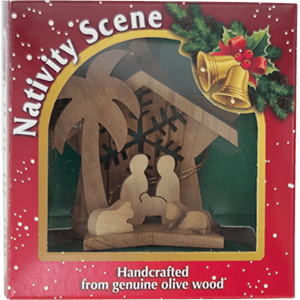 Stock Review
Handcrafted Olive Wood Nativity Christmas Ornament

Hand made in the Holy Land from Olive Wood grown in Holy Land soil. Thise lovely Nativity scene for your Christmas tree will make a beautiful addition to any Christmas display. They are ones you will want to hand down to your children and grandchildren.

Measures approximately 2 3/4 inches (7 cm) high x 2 1/2 inches (6,5 cm) across x 1 1/8 inch (3 cm) deep -- the prefect size for your Christmas tree!
Review this product
Please log into your account to Add Your Comment.