Water from the Jordan River for Display
This elegant sealed bottle of Jordan River water will be nicely displayed in your home. The bottle top is made from local wood with a cross atop. Volume: 1.7 fl oz | 50 ml - Height: 6 1/2 inches | 16.5 cm
Item # : HE020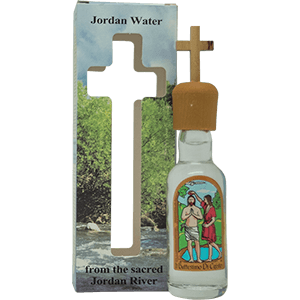 Stock Review
Elements:Jordan River Water - In Stock
Water from the Sacred Jordan River for Display

This elegant sealed bottle, from the "Terra Santa Collection", contains water drawn from the Holy Jordan river. The Jordan River is considered sacred to many as it was the site of Yeshua's baptism by John the Baptist.

This bottle of Jordan River water will look lovely in your home. The bottle top is made from local wood with a cross atop. The Jordan water bottle is decorated with a transparent scene of St. John the Baptist.

Included is a personal baptismal certificate as well as a certificate of authenticity of its Holy Land origin.
Review this product
Please log into your account to Add Your Comment.