Authentic Holy Land Earth Necklace
Glass pendant filled with the soil of the Holy Land, the very soil on which Biblical figures walked. Includes Certificate of Authenticity. Comes on leather cord.
Item # : HE023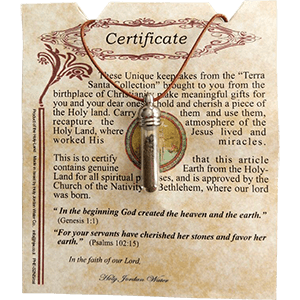 Stock Review
Elements:Jerusalem Soil - In Stock
Holy Land Earth Necklace with Certificate of Authenticity

The Bible really comes to life when you can take a little piece of the Holy Land where ever you go. In the small glass vial is actual earth taken from the places Biblical figures walked. The vial is on a cord so it can be hung around your neck as contant reminder of this very holy place.

The necklace is a clear glass pendant containing authentic Holy Land earth strung on a leather cord.
Review this product
Please log into your account to Add Your Comment.