Queen Esther Anointing Oil
Anointing oil from the Holy Land made on a base of natural Galilee olive oil and inspired by the the scripture Esther 2:12. Scented with Persian ingredients myrrh, sandalwood, cassia and spikenard. Size: 8 ml. – 0.27 fl.oz.
Item # : AO011Q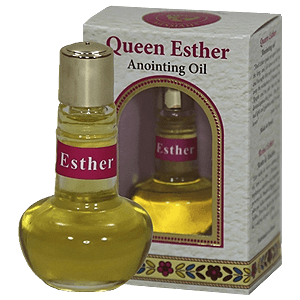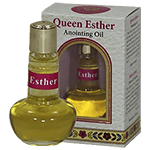 Stock Review
Scent:Queen Esther - In Stock
Queen Esther Anointing Oil

When Esther was to be presented the the king the Bible tells us she "had to complete twelve months of beauty treatments prescribed for the women, six months with oil of myrrh and six with perfumes and cosmetics. (Esther 2:12) ". In celebration of Esther and her heroism, this anointing oil is scented with Persian ingredients which have been in use since the time of the Bible. These include myrrh, sandalwood, cassia, and spikenard. The anointing oil is best used to be inspired to be a vessel for God's plan. It can be used in prayer for courage to follow God's plan for you.

Size: 8 ml. – 0.27 fl.oz.
Review this product
Please log into your account to Add Your Comment.