Colorfully Printed Aramaic White Satin Matza Cover & Affikoman
Lovely Passover Matzah Cover vividly printed with a bright design of grapes and wine and the opening Aramaic declaration of the Haggadah (book of the Passover Seder). Diameter: 50 cm | 19 3/4 inches
Item # : CV015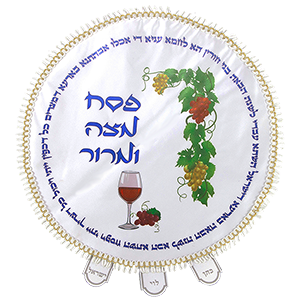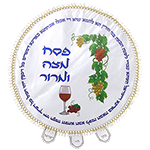 Stock Review
Colofully Printed Aramaic White Satin Matza Cover & Affikoman This very special Matzah Cover is vividly printed with Aramaic declaration with a lovely Passover design.
The traditional way to open the Passover Seder is with a declaration spoken in Aramaic: "הא לחמא עניא, דאכלו אבהתנא בארעא דמצרים, כל דכפין ייתי ויכול, כל דצריך ייתי ויפסח, השתא הכא לשנה הבאה בארעא דישראל, השתא עבדין, לשנה הבאה בני חורין."

In English this means, "This is the bread of poverty our ancestors ate in the land of Egypt. All the object will come and eat, all that is needed will come and celebrate Passover. This year we are here; Next year, in the Land of Israel. This year we are slaves; Next year, Bnai Horin (Children of Freedom).
Cover Diameter: 50 cm | 19 3/4 inches
Review this product
Please log into your account to Add Your Comment.