White Satin Matzah Cover with Blue Seder Plate Design
Passover cover embroidered in blue with a representation of the Seder Plate and the Six special foods placed on the plate for Passover. It has a fringed edge and three compartments for the Matzah. Diameter: 17 3/4 inches | 45 cm
Item # : CV024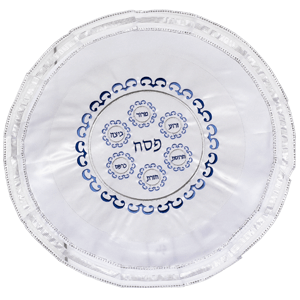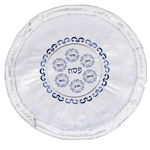 Stock Review
Color:Multi - Out Of Stock
White Satin Passover Cover with Six Seder Food Design

Beautiful and large satin passover cover or matzah bag with three compartments to hold the Matzahs during the Passover Seder dinner. Can be used to cover the Passover plate during the Passover meal (The Seder) as well as contain the Matzahs. The six traditional foods are called "Ka'arah" in Hebrew.These six traditional foods are זרוע (Zeroah) a roasted leg bone, ביצה (Beitzah) a hard-boiled egg, מרור (Maror) horseradish, חורסת (Charoset) sweet apple chutney, כרפס (Karpas) boiled potato, and חזרת (Chazeret) bitter herbs usually romaine lettuce.

Diameter: 17 3/4 inches | 45 cm

What are the Three Matzots?

During the Seder three matzots are placed in a bag then on the Seder Plate in honor of Kohen, Levi, and Yisraelite, the only Tribes recognized today, as a means of distinguishing them from each other.

The top matzah is referred to as Kohen, for the Kohen takes precedence in all matters.

The middle matzah referred to as Levi and broken into two at the beginning of the Seder. The smaller piece is left on the plate and is later eaten along with the Kohen matzah in fulfillment of the mitzvah of matzah; the larger piece is put away for use as the afikoman.

The bottom matzah, Yisraelite is used for making the korech (the tenth step of the Passover Seder is eating matzah and maror combined in a sandwich.), so that every one of the matzot is used for the performance of a mitzvah.
Review this product
Please log into your account to Add Your Comment.