Klaf Mezuzah Parchment
100% Kosher by Israel Ranninot. Hand-Written by a "Sofer Stam". Made in Israel & Proofreader Expert Certified Judaica. 2.8 x 2.8 inches | 7 X 7 cm
Item # : JA013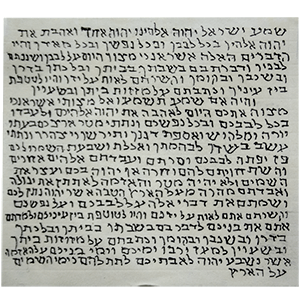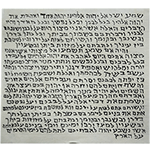 Stock Review
Material:Parchment Size:Small - In Stock
Klaf Mezuzah Parchment
This Kosher Mezuzah was written by a Sofer Stam, an expert scribe who trains for hundreds of hours. Very strict rules govern the creation of the Mezuzah, all under the supervision of the Israel Rabbinot. The Mezuzah must be written on a parchment (animal hide made into paper) from a kosher animal, in this case the goat. Each letter is written by hand with a feather quill from a kosher fowl. Every letter is precise including the spaces between letters and words. The scroll is checked meticulously by an expert Rabbi to ensure the quality. Once you receive your Mezuzah you will place it in a decorative holder and affix it to the right side of your doorpost (coming from the street) 1/3 down from the top of the door.

Made from high quality genuine Klaf, parchment made from goat hide and written with a feather quill.

Mezuzah provided by Ziskin Finkelshtein, Tel Aviv, Israel.

Contains the verses Deuteronomy 6:4–9 and 11:13–21 which consists the Jewish prayer Shema Yisrael, beginning with the phrase: "Hear, O Israel, the Lord our God, the Lord is One".

Size: 2.8 x 2.8 inches | 7 X 7 cm
Review this product
Please log into your account to Add Your Comment.