Matte Silver Plated Mezuzah Full House Set 25% Off
A set of silver plated in a rough matte finish with gold colored highlights. The set has six different designs and is a perfect for a new house or for someone new to honoring God with mezuzot on the doorpost. Each mezuzah height: 5 inches | 13 cm
Item # : MZ018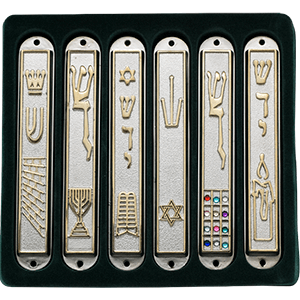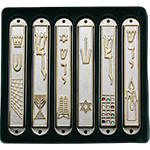 Stock Review
Color:Silver - Out Of Stock
Matte Silver Plated Mezuzah Full House Set

25% OFF!

This set has six different design elements, but they all in the same style so your house will have a cohesive look. Each mezuzah is adorned with a symbol of the Judaic faith. Each have the same sharp square edges and corners give it a clean, modern look, but the rough matte silver plating softens the overall look.

A mezuzah is supposed to be placed on the doorpost of each room. It is to remind us of the ultimate Judaic blessing, the Shema Yisrael, "The Lord our God, the Lord is one. Love the Lord your God with all your heart and with all your soul and with all your strength."

Height - 5 inches | 13 cm

* Parchment sold separately.
Review this product
Please log into your account to Add Your Comment.