Ein Gedi Eye Cream.
Ein Gedi Eye Cream. Suitable for All Skin Types. 30 ml e 1 fl.oz.
Item # : CS3020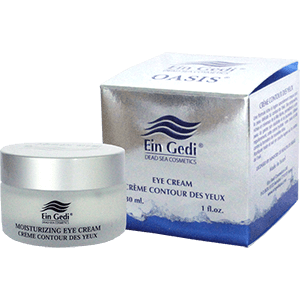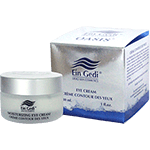 Stock Review
Formula:All Skin Types - In Stock
Ein Gedi Eye Cream.
Dead Sea Cosmetics - New Oasis Eye Cream.
Special delicate cream for the gentle skin around the eyes and neck.
Reduces wrinkles and creases. Easily absorbed light texture, the eye cream leaves the skin supple and smooth.

Fortified with active anti aging Hyaluronic acid to maximize wrinkle smoothing effects for a revived appearance and luminous glow.
30 ml e 1 fl.oz.

Application: Gently apply around the eyes.
Daily use will make your face younger looking and effectively Reduce dark eye circles. When it comes to cosmetics, Israelis are just as popular of their skincare and beauty regimes as are most other Western nationalities. Perhaps even more so; after all, this is a country where the sun shines for much of the year,
Havoc
may reek, on skin, whether it's on your face or your feet. And so, Israeli companies produce their own antidotes to the harsh Mediterranean sun, creating products that have ended up in the global drugstore because they're just so good. True, anything made with minerals from the Dead Sea, whether by Ein Gedi or any other company, tends to win the most fame. But don't take our word for it, trust the experts. ISRAEL21c consulted with local cosmeticians, beauty bloggers, editors and skincare experts to get their take on which products deliver results.
Review this product
Please log into your account to Add Your Comment.