Izrael Jerusalem Grill Spice, Galilee Olive Oil, Za'atar/Hyssop Seasoning Set
100% natural seasonings from Israel. Two bottles herb seasonings and a bottle of put olive oil of bring the flavor of Israel to your table. Your food will never have tasted so good! No Preservatives - No Artificial Coloring - Natural Ingredients Only
Item # : FD062ST4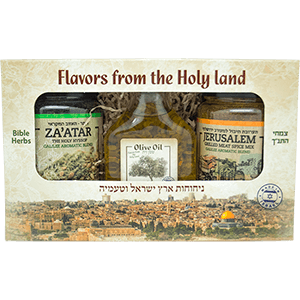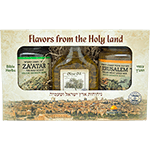 Stock Review
Ingredient:Spices - In Stock
Set of Three Israeli Seasonings:
Jerusalem Grill Spice, Galilee Olive Oil, Za'atar/Hyssop Spice Set

100% Produced and packaged in Israel.

Izrael Za'atar Ltd understands the value of being part of and giving back to the Israel community. These spices are packaged and labeled by over 50 special needs workers providing a source of independent livelihood.

This set includes:
Jerusalem Grilled Meat Spice Mix

This Jerusalem Grilled Meat Spice Mix is a spice mixture that has been specially blended to reproduce the fabulous "Meorav Yerushalmi" or "Jerusalem Mix" meats that are famous in Israel. So delicious visitors to the Holy City seek out the restaurants that serve this dish. Now you can gave this delicious flavor in your own home. Authentically, this spice mix is used for frying or grilling chicken giblets. However, it is also wonderful for stir fries, chicken legs, schnitzels and burgers.

Ingredients : Dried Coriander, Cumin, Black Pepper, Paprika, Turmeric, Sumac, Salt, Sugar

Galilee Olive Oil

Genuine Israeli extra virgin olive oil. Harvested and First Cold Pressed the same day in the region of the Sea of Galilee. 8.5 fl oz | 250 ml

Ingredients: Pure Virgin Olive Oil
Biblical Hyssop Za'atar, Galilee Aromatic Blend
Za'atar is a healthy and multi-purpose spice blend enriching the flavor and aroma of many dishes. It is excellent for salads, soup, meat, fish, cheese, eggs, pizza, bread and pastries.
Besides adding a wonderful flavor to all kinds of food Zaat'ar is healthy too. Ingredients: Hyssop, Sesame, Elm-leaved Sumach, Lemon Acid, Salt
_______________________________
All seasonings are Kosher Pareve Badatz Beit Yosef – Under the supervision of Rabbi Mordehai Zamir, Jezreel Valley Regional Council
Give Back to the Community - this product is packed by workers with special needs
No Preservatives - No Artificial Coloring - Natural Ingredients Only
Review this product
Please log into your account to Add Your Comment.