City Hobo Bag with Jerusalem Blue/Green Matte
Black canvas bag with neon green and blue matte letters spelling JERUSALEM. I ♥ Jerusalem Coin Purse included.
Item # : BG017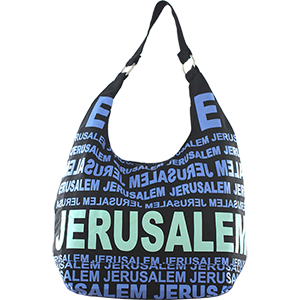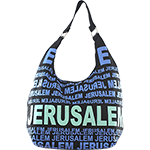 Stock Review
Color:Blue/Green - Out Of Stock
Jerusalem Hobo City Bag with Neon Green and Blue Matte Design

If you are looking for a fun, durable bag, just the right size look no further. This canvas Hobo City Bag is all those things and more. Carry your laptop or tablet for work, use it for your sunscreen, towel and snacks for a day at the beach, or to pack your clothes and toiletries for an overnight or day trip. This bag won't fail you!

Created in the stylist City Bag look, this bag is just the right size to carry and the straps are a comfortable length. The complimentary change purse makes this bag super useful.

Dimensions: 18 1/2 x 13 inches | 47 x 33 cm
Strap length 23 1/2 inches | 60 cm
Review this product
Please log into your account to Add Your Comment.