City Hobo Bag with Jerusalem Green/Pink Matte
Black canvas bag with neon green and pink matte letters spelling JERUSALEM. I ♥ Jerusalem Coin Purse included.
Item # : BG015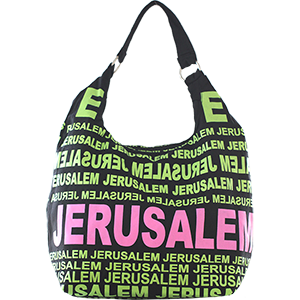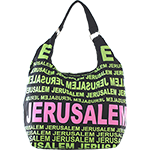 Stock Review
Color:Pink/Green - In Stock
Jerusalem Hobo City Bag with Neon Green and Pink Matte Design

This durable canvas Jerusalem Hobo City Bag is big on style and size. Take it shopping, to the beach, to the gym, on an overnight getaway -- it is the perfect size no matter where you go an what you do. The straps make the bag easy to carry and the complimentary change purse makes this bag super useful.

Dimensions: 18 1/2 x 13 inches | 47 x 33 cm
Strap length 23 1/2 inches | 60 cm
Review this product
Please log into your account to Add Your Comment.