Edom 50+ Age-Defying Collagen Day Cream
Age Defying Day Cream with Dead Sea Minerals, Hyaluronic Acid and Vitamin E from Edom Cosmetics. For all skin types. Size: 1.7 fl oz | 50 ml
Item # : CS2705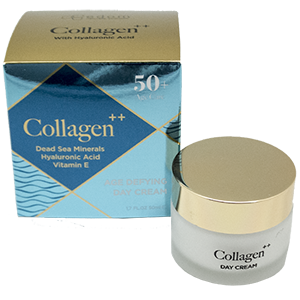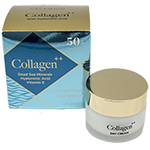 Stock Review
Brand:Edom Formula:All Skin Types Size:50 ml / 1.7 fl.oz. - Out Of Stock

Edom Collagen Age-Defying Day Cream, 50+ Age Care
For all skin types.

Ultra Moisturizes | Firms | Smooths

Feel the effects of the daily renewal and beautiful rejuvenation as the active ingredients deliver optimal skin nourishment and a visible youthful texture.

This premium 50+ Age-Defying Collagen Day Cream is based on a superb blend of innovative ingredients, known to target skin aging. Formulated with an advanced Marine Hydrolyzed Collagen, Hyaluronic Acid, Dead Sea Minerals and Shea Butter. It improves skin resilience, firmness and smooths the signs of aging. Keeps your skin moisturized, more radiant and with a youthfully revived texture.

Marine Hydrolyzed Collagen is the most abundant protein in the human body that declines with age, and due to environmental factors. It provides the skin its density and youthful structure. Maine Hydrolyzed Collagen is designed to help the skin renew and repair normally, look firmer and smoother. It is significantly improves skin elasticity and moisture.

Natural Dead Sea Minerals are known worldwide since antiquity for their unique beautifying and vitalizing properties on the skin.

Hyaluronic Acid is one of the best hydrating ingredients. It retains water, making your skin looking fresher and more radiant.

Vitamin E is know as an essential anti-oxidant ingredient for the skin.

Your skin will appear fresh, luminous and youthful!

Directions for Use: Apply onto cleaned face and neck using gentle circular motions until fully absorbed.
Review this product
Please log into your account to Add Your Comment.