My Bible Coloring Book
Favorite Bible stories are brought to life with these creative and detailed coloring pages for ages 5 & up. Size: 7 1/4 x 11 3/4 inch | 18.5 x 30 cm
Item # : TG028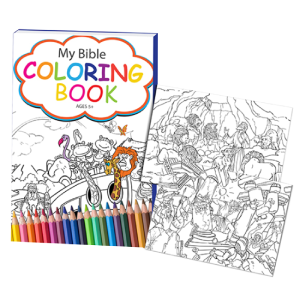 Stock Review
Color:Orange Size: - In Stock
My Bible Coloring Book

A fun and creative way for your children to learn about the important stories of the Bible, as your child colors you can have a dialogue about that portion of the Bible.
Favorite Bible stories such as Noah's ark, Daniel in the Lion's Den, Moses' in the Nile, and Samson Destroying the Temple of the Philistines will be brought to life as your child colors.

Each page is printed on 7 ¼ x 11 ¾ inch heavy card stock with detailed, authentic images to color.

Pages can be colored with crayons, colored pencils or markers.

Recommended for children 5 and up.
Help your child reflect on the blessings of the Bible while they add their own colorful touch to Bible Stories. The My Bible Coloring Book features creative and inspiring line drawings which are to be filled with color by your child's hand. Whether your child prefers crayons, colored pencils, or markers this book has heavy card stock paper that can take a variety of art mediums. The drawings found in this coloring book are detailed and accurate, yet age appropriate, giving your child a glimpse into how each Bible scene would really have looked. The images are detailed enough that even adults could enjoy the relaxing act of coloring in this book. The book is recommended for age 5 and older. Watch with delight as the Bible comes to life for your child.
Review this product
Please log into your account to Add Your Comment.