I love Jerusalem Sheep in a Hoodie
Super cute wooly sheep toy in a hoodie embroidered with I ❤ Jerusalem. Fun and cuddly for kids of all ages. Height: 20 cm / 8 Inch
Item # : TG202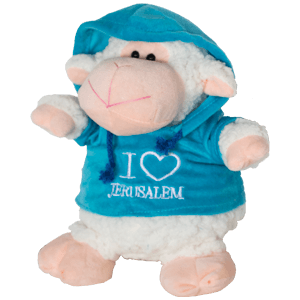 Stock Review
Color:Blue - In Stock
Color:Black - In Stock
I love Jerusalem Sheep in a Hoodie

Even toy sheep love style! This super cute toy is a wooly sheep sporting a hoodie embroidered with I ❤ Jerusalem. Your favorite little ones of all ages, boys and girls, will fall in love with this cute little guy. Get one for your kids to cuddle today.

Height 20 cm / 8 Inch
Review this product
Please log into your account to Add Your Comment.