Shema Yisrael Mezuzah Scroll Necklace
The Shema Yisrael printed in Hebrew on a scroll placed a glass pendant on a leather cord. The Shema Yisrael is the scripture found in the mezuzah making this necklace like a mezuzah
Item # : HE029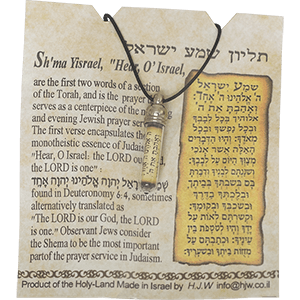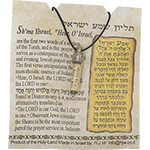 Stock Review
Elements:Jordan River Water - In Stock
Shema Yisrael Mezuzah Scroll Necklace

The Shema Yisrael is the prayer that serves as a centerpiece of the roots of the Judaic faith. The first two words of this section of the Torah composed the title of the prayer: "Shema Yisrael" or in English "Hear, O Israel" The first phrase encapsulates faith, "Hear, O Israel the LORD our God, the LORD is one". You can wear this beautiful prayer around your neck always with this cool necklace. The necklace composes of a paper scroll with the prayer which is inside a glass vial to form the pendant. It is strung on a leather cord.
Review this product
Please log into your account to Add Your Comment.