Love Israel Patches Collection
Collection of four patches representing the State of Israel. All patches are embroidered and made to the highest quality with clear, vibrant stitching.
Item # : PT021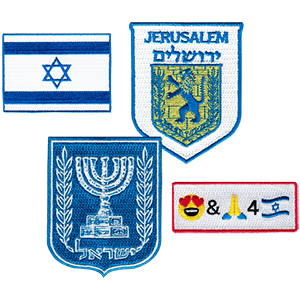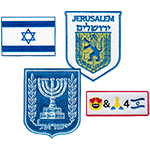 Stock Review
Material:Embroidery - In Stock
Love Israel Patches Collection, Iron-on or Sew-on
Seal of the State of Israel Patch. A patch displaying the official Emblem of the State of Israel, called the Semel Medinat Yisra'el in Hebrew, is perfect for anyone who supports Israel. The emblem was inspired by Zechariah 4:2-3. Size: 2 1/2 x 3 1/4 inches / 6.5 x 8 cm

Israel Flag Patch. Those who love the Israel Flag with it's blue and white color scheme and all its meaning will love this simple patch. Size: 2 1/4 x 3 1/4 inches | 6 x 8 cm

Jerusalem Emblem Patch. The official Emblem of the City of Jerusalem. The emblem features the symbol of the Tribe and KIngdom of Judah whose capital was Jerusalem -- called the Lion of Judah. The emblem background represents the Western Wall, and the olive branch represents the quest for peace. The inscription above the crest is the Hebrew word for Jerusalem (yerushalayim).2 1/2 x 3 1/4 inches | 6.5 x 8 cm

Love and Pray for Israel Patch. Show how you love and pray for Israel with this cute, modern, and light-hearted iron-on patch. The young and young at heart in your life will love this cool take on an important message. Size: 1 1/4 x 3 1/4 inches / 3 x 8 cm
These patches are for those who love Israel and want to show their support of the Holy Land. They are made of the highest quality. Whether you are a collector of patches or you just want to support Israel, these patches are great for your collection. You will receive 1 each of the pictures patched in this collection. You can sew these patches on or use the heat-sealing backing to iron it on to nearly any fabric. You can keep this patch in your collection or they are great for attaching to jeans, jackets, vests, hats, or backpacks.
Review this product
Please log into your account to Add Your Comment.