Silver Shema Yisrael Lattice Sphere Necklace
Sterling Silver Necklace with the a lattice sphere pendant inscribed with the Shema Yisrael in Hebrew. Necklace length 19 3/4 inches | 50 cm
Item # : KJ015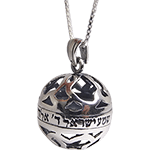 Stock Review
Jewelry Type:Necklace - In Stock
Sterling Silver Shema Yisrael Lattice Sphere Necklace

This beautiful necklace is inscribed with the Shema Yisrael around the center of a latticed sphere. The Shema encircling the sphere is indicative of our faith and love of God... no end. The inscription reads, "Shema Yisrael, Hashem Elokeinu, Hashem Echad" (Hear, O Israel, Hashem is our God, Hashem is One) and it is from the scripture Deuteronomy 6:4.

The necklace chain is 19 3/4 inches | 50 cm, however, other lengths are availavle upon request.
Review this product
Please log into your account to Add Your Comment.