David's Harp with Hoshen Keychain
Lovely metal keychain made the shape of David's Harp and featuring the Priestly Breastplate stones.
Item # : KYA004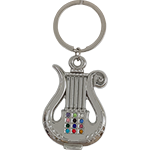 Stock Review
David's Harp with Hoshen Keychain

High quality metal keychain shaped like David's Harp including beatiful design details. On the base of the harp is the Priestly Breastplate stones, or Hoshen stones. These stones were worn by the High Priest and served as a link between God and the Twelve Tribes of Israel.

David's Harp shows us how we can take inspiration on how God can use a simple instrument to ease someone's burden; let us also express gratitude that God wants to use our lives to help people in our world today to find comfort, peace and encouragement.Tabernacle (The Mishkan) which housed the Ark of Covenant.

Made with a split ring and chain to securely hold your keys. Also great as a decoration on a backpack zipper.

Review this product
Please log into your account to Add Your Comment.