Pomegranate Tree Keychain
Eye-catching enameled metal keychain made in the shape of a pomegranate tree with a depiction of Jerusalem on its trunk. The white metal is highlighted with bright red, green, and blue enamels.
Item # : KYA013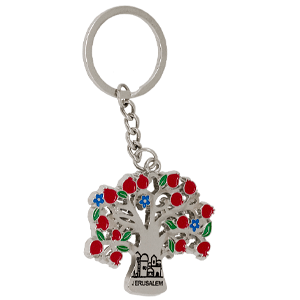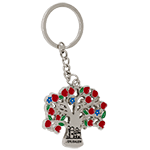 Stock Review
Pomegranate Tree Keychain

Quality metal keychain in the shape of a pomegranate tree. A scene of Jerusalem's Old City is in relief on the trunk of the tree. The eye-catching keychain has bright red pomegranates, pretty blue flowers, and vivid green leaves.

The pomegranate long has been a symbol of fruitfulness, blessing and prosperity as the spies bring back pomegranates from their reconnaissance work (Numbers 13:23), showing the Promised Land to be bursting with abundance. In Scripture God commanded that His priests sew images of pomegranates into the hems of their garments. They are also a symbol of the Jewish New Year Rosh HaShannah, each seed representing the good deeds we must do.

Made with a split ring and chain to securely hold your keys. Also great as a decoration on a backpack zipper.
Review this product
Please log into your account to Add Your Comment.