Hoshen Stone Names Keychain
Metal spinning keychain with Priestly Breastplate Stones, also known a Hoshen. Around the outer circle are the Biblical names of the 12 stones in Hebrew
Item # : KY327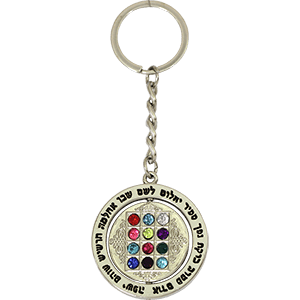 Stock Review
Color:Silver - Out Of Stock
Hoshen Stone Names Keychain

Pretty metal keychain featring the 12 Hoshen Stones. These 12 stone were worn on the breastplate of the ancient Israelite Jewish priests. Each stone represents one of the 12 Tribes of Israel. The keychain consists of two parts and inner circle with the hoshen stones which spins and the outer circle. The outer circle has the Biblical names of the 12 stones in Hebrew.
Review this product
Please log into your account to Add Your Comment.