Pomegranate with Shema Yisrael Keychain
Pewter plated keychain shaped as a pomegranate. In its center is the Shema Yisrael written in beautiful Hebrew
Item # : KY322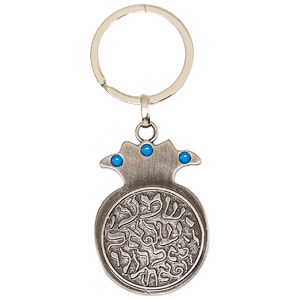 Stock Review
Pomegranate with Shema Yisrael Keychain

The pomegranate symbolically represents the mitzvot or commandments found in the Torah. In the Torah there are 613 commandments and it is said that this is the number of seeds in a pomegranate. This lovely keychain is shaped like the pomegranate and has the Shema Yisrael, Hear O Israel, the Lord is our God, the Lord is One." written in Hebrew on its surface.
Review this product
Please log into your account to Add Your Comment.