Upright Ceramic and Plush Isreal Sheep
The face and bottom half of this cute standing sheep are made of ceramic. The body is of soft, fluffy plush.
Item # : TG184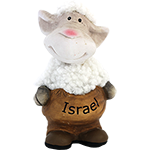 Stock Review
Upright Ceramic and Plush Isreal Sheep

This cute standing sheep will make a lovely gift for an older child or those who love to decorate their homes with cute things. This adorable expression on his face is irresistible! The combination of ceramic and plush make this sheep a little bit unconventional, but that's what makes it amazing!

WARNING: This is not an item for small children.
Review this product
Please log into your account to Add Your Comment.