14kt Yellow & White Gold Star of David with Shema Yisrael Pendant
Yellow and White Gold Jewish Pendant. Star of David with Shema Yisrael. Size 19 x 16 mm | 3/4 x 5/8 inch
Item # : PN9024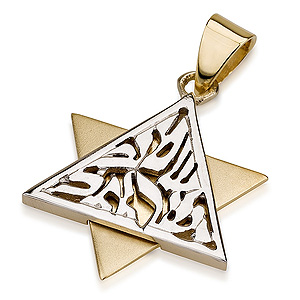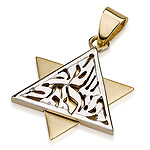 Stock Review
Material:14k Gold - In Stock
14kt Yellow & White Gold Star of David with Shema Yisrael Pendant

The Star of David is an iconic symbol of the Judaic faith. Combine it with the Shema Yisrael, the definitive prayer of the Judaic faith, and you have a powerful statement. This 14kt yellow and white gold pendant does just that.

The design is very modern, but the message is ancient. The pendant is designed with a yellow gold triangle at the base. On top is a white gold triangle that forms the Star of David. Within the white gold triangle are cutouts that form the Hebrew words "Shema Yisrael."

The Shema Yisrael is the prayer from Deuteronomy 6:4–9, 11:13-21, and Numbers 15:37–4 and begins, "Sh'ma Yisrael Adonai Eloheinu Adonai Eḥad - "Hear, O Israel: the LORD is our God, the LORD is One."
Review this product
Please log into your account to Add Your Comment.