The Ballad of Magdala Children's Book
Soft cover book for kids. A rhyming story about the Hometown of Mary Magdalene, vividly illustrated. Author: Garit Gani, English Version: J. Spencer Bloch
Item # : BK166BM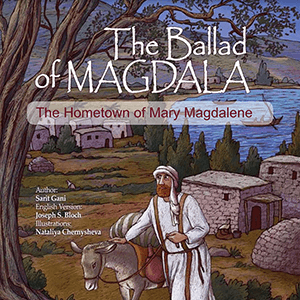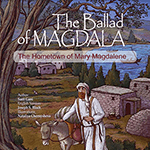 Stock Review
Language:English - In Stock
The Ballad of Magdala: The Hometown of Mary Magdalene

The town of Magdala known in the Scriptures (it being Mary Magdalene's hometown) and a town of this name still exists today near the shores of the Sea of Galilee. Nevertheless, it still came as a surprise when in 2009 during the construction of a new Pilgrims' guesthouse, the remains of an ancient fishing town were discovered near the contemporary town of Madgala.
The discovery was important because workers unearthed a rare archeological discovery: a First Century synagogue, one of only seven synagogues from this period in the world. While we can only surmise, it is a distinct possibility that Jesus himself taught here during His ministry in the Galilee. Along with the synagogue, also discovered was a nearly complete First Century city, with homes, warehouses, stores and ritual baths.

While this discovery was already monumental in archeological importance, an even more exciting discovery was that of a stone block, on which a Menorah shape was engraved. This stone has come to be known as the Magalada Stone. This indicates that the artist knew about, or maybe even viewed, the original Menorah in Jerusalem before 70 AD (year of the Temple's destruction). It speaks to the spread of the Word and faith of the One True God.

After this stirring discovery, to honor this site, a modern one-of-its-kind chapel called the 'Duc In Altum' was erected. With a view of the Sea of Galilee and a unique boat-shaped altar, this chapel commemorates Jesus preaching from the boat on the sea. 'Duc In Altum' draws its name from Luke 5:4 where Jesus instructs Simon Peter to "launch into the deep". On May 26, 2014, during his pastoral pilgrimage to the Holy Land, Pope Francis blessed the tabernacle, which resides on the altar in the Boat Chapel.

The 'Duc In Altum' is also promotes the presence and importance of women in the Gospel, first and foremost that of Mary from Magdala, a follower of Jesus and one of the three who found His empty grave.

In just a few short years, with only part of the site excavated, Magdala has already become a very special place of history and culture. A new stop for Pilgrims to the Galilee, it provides an authentic location to walk and pray where Jesus taught, and to connect with the First Century life of Jesus' followers.

ISBN: 9789657607435

Author: Garit Gani

English Version: J. Spencer Bloch

Illustrations: Nataliya Chernysheva
Review this product
Please log into your account to Add Your Comment.