Tzahal IDF Hat by Keter
100% cotton snapback hat. Embroidered on the front of this hat is the Hebrew word Tzahal, the acronym for the IDF. The brim is made in camouflage.
Item # : HT073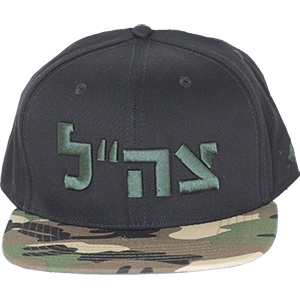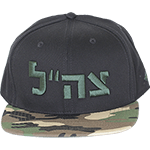 Stock Review
Tzahal Hat by Keter

100% cotton hat. Snapback closure. Unisex.

The Israel Defense Forces, commonly known in English as the IDF and in Israel by the Hebrew acronym Tzahal (צה״ל ), are the military forces of the State of Israel. They consist of the ground forces, air force, and navy. This hat features that Hebrew abbrevation for the mighty army of Israel. Wear this amazing hat and show that you support Israel's right to a self-defense.

Made by Keter. Keter hats are a premier Israeli hat brand. Worn by Israeli pop music artists, these hats are bold and hip, but always with a message. Keter does not cut corners in quality, all hats are designed by the most contemporary Israeli graphic artists and are created with a combination of hand and machine made.
Review this product
Please log into your account to Add Your Comment.