White Satin Matzah Cover & Affikoman, Jerusalem Passover Matzah Maror
Matzah Cover made from white satin with 3 compartments and embellished with the words of Pesach, Matzah, Maror surrounded by a Jerusalem design. Comes with separate matching Affikoman. Diameter: 19 3/4 inches | 50 cm
Item # : CV027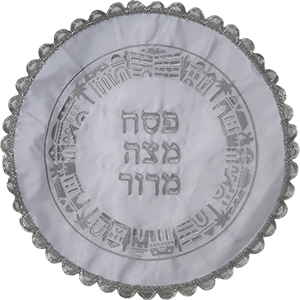 Stock Review
White Satin Matzah Cover and Affikoman, Jerusalem Passover Matzah Maror
A very pretty matzah cover with three compartments for the 3 matzah for the Seder. This white satin cover is embroidered a lovely Jerusalem decoration and three words representing the themes of the holiday Passover. Pesach representing the Passover sacrifice -- what we gave up to survive. These words are :

Pesah, the Hebrew word for Passover -- what we gave up to survive.
Matzah, the unleavened bread -- what we must have to survive
Maror, the bitter herbs -- what we need to remember to ensure our future survival

The Matzah Cover has three compartments labeled כהן (Cohen), לוי (Levi), ישראל (Israel) – see below for explanation

Approximate Diameter: 19 3/4 inches | 50 cm

Matzah is the traditional unleavened bread eaten at Pesah (Passover). The very first Passover meal, called a Seder, is commemorated with the eating of Matzah because the ancient Hebrews had no time to let their bread leaven before fleeing Egypt. Therefore, the only bread they had at the Seder was unleavened.
The Matzah Cover plays a vital role in today's Passover Seders. Inside the Matzah Cover are three compartments to hold three sheets of maztah. These three sheets of matzah symbolize the three groups of ancient Hebrew society: Cohen, Levite, and Israelite. Each sheet also has a name and a meaning: the top called the Keter (Crown), the middle called the Hochmah (Wisdom) and the bottom called Binah (Intellect).
What is the significance of the three matzahs at Passover? During their time in the desert the Ancient Hebrews collected, something called manna – bread from heaven. Just before each Shabbat they collected a double amount of manna. The top and bottom sheets of matzah represent this collection of double manna. The middle matzah represents the Exodus and the destitution they experienced in the desert. At the beginning of the Seder meal, this matzah is broken and half eaten and half placed in the Afikomen to save the rest for another meal.
Review this product
Please log into your account to Add Your Comment.