White Satin Matzah Cover & Affikoman with Beautiful Silver Embroidery
Passover cover with 3 compartments for matzah beautifully embellished with a silver embroidery grapevine design and the names of the 6 traditional foods. Comes with a separate Affikoman. Diameter: 19 3/4 inches | 50 cm
Item # : CV026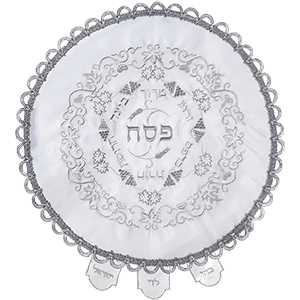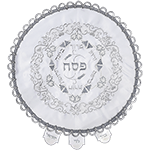 Stock Review
White Satin Matzah Cover and Affikoman with Beautiful Embroidery

Decorative Matzah cover for the Passover Seder with the traditional three sections to hold three Matzahs during the feast. It is made from white satin and decorated with silver emboridery with the Hebrew word "Pesach" (Passover) and the names of the 6 traditional foods, called ("Ka'arah" in Hebrew) that go one the Seder plate. The cover is edged with lovely silver loops.

These six traditional foods are זרוע (Zeroah) a roasted leg bone, ביצה (Beitzah) a hard-boiled egg, מרור (Maror) horseradish, חורסת (Charoset) sweet apple chutney, כרפס (Karpas) boiled potato, and חזרת (Chazeret) bitter herbs usually romaine lettuce.
Approximate Diameter: 19 3/4 inches | 50 cm
The traditional unleavened bread eaten at Passover (Pesah in Hebrew) is called Matzah. We are commanded to eat Matzah at Passover to commemorate the bread eaten at the first Passover meal. In their haste to leave Egypt, the ancient Hebrews did not have time to allow their bread to rise so they ate unleavened bread that Seder.
The Matzah Cover has a very important role during today's Seder celebrations. It holds three maztah; the top called the Keter (Crown), the middle called the Hochmah (Wisdom) and the bottom called Binah (Intellect). They represent the three castes of ancient Hebrew society: Cohen, Levite, and Israelite.
Why three Matzah at Passover? The top and the bottom represent the double manna (bread from heaven) the ancient Hebrews collected before the Sabbath during their time in the wilderness. The middle is the matzah broken at the beginning of the Seder meal and half eaten and half placed in the Afikomen. This represents their flight from Egypt and the poverty they endured in the desert – to eat half now and save the rest for another meal.
Review this product
Please log into your account to Add Your Comment.