Silver Plated 12 Tribes of Israel
A silverplated menorah honoring the 12 Tribes of Israel will let the light of God shine in any environment. Available in 3 sizes: Small - 6 1/2 inches | 16.5 cm; Medium - 8 1/2 x 7 inches | 22 x 18 cm; Large - 13 1/2 x 9 1/2 inches | 35 x 24 cm
Item # : MN039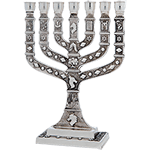 Stock Review
Height:5 inches - Out Of Stock
Height: - Out Of Stock
Height:9 inches - In Stock
Silver Plated 12 Tribes of Israel Menorah

This stunning menorah with shining silverplating will let the light of God shine forth in any environment. On the stem and branches of the menorah are the symbolic representations of the ancient 12 Tribes of Israel. The Twelve Tribes of Israel were born from the twelve sons of Jacob, the Twelve Tribes are: Reuben, Simeon, Levi, Judah, Dan, Naphtali, Gad, Asher, Issachar, Zebulun, Joseph, and Benjamin (Genesis 35:23-26). This lovely menorah is made to honor these powerful 12 Tribes of Israel as paying homage to the menorah that originally stood in the Tabernacle in the Wilderness and later in the Temple in Jerusalem.

Available in three sizes to fit different budgets and spaces:
Small - 5 inches | 13 cm
Medium - 6 1/2 inches | 16.5 cm
Large - 9 inches | 23 cm
Review this product
Please log into your account to Add Your Comment.