Messianic Faith Patches Collection
Collection of four patches are inspirational by the Messianic Judaic faith or those who honor the roots of their Faith. All patches are embroidered and made to the highest quality with clear, vibrant stitching.
Item # : PT023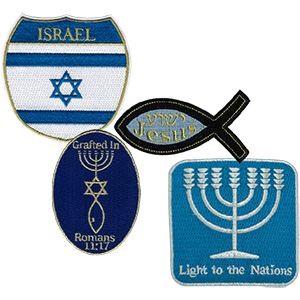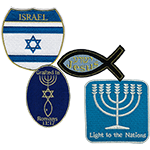 Stock Review
Material:Embroidery - In Stock
Messianic Faith Patches Collection
Grafted In Patch. A meaningful and inspiring Iron-on Patch featuring the definitive symbol of the Messianic movement, the Grafted In. The patch is oval shaped with a gold Grafted In and the reference Romans 11:17. Size: 2 1/4 x 3 1/4 inches / 5.5 x 8 cm

Jesus Fish / Ichthys Patch. The Jesus Fish, or more properly known as the Ichthys, is a symbol in which early Christians identified each other and places of worship by this symbol because they were harshly persecuted by the Pagan Roman Empire. Today wearing the Jesus Fish is a conscious symbol of a witnessing Christian. This patch has gold highlights and written in gold is "Jesus" and "ישוע" -- Yeshua, the name of Jesus in Hebrew. Size: 1 3/4 x 3 1/2 inches | 4.5 x 8.5 cm

Menorah Light to the Nations Patch. This lovely patch is embroidered with a shining silver menorah on a background of bright blue. Under the menorah says the words, "light to the nations". This phrase is originated from the prophet Isaiah. It expresses the universal appointment of God's kingdom for spiritual and moral guidance for the entire world. The center of this is Zion, with its Temple Menorah shining light into the world. Size: 3 1/4 x 3 1/4 inches | 8 x 8 cm

Jerusalem Emblem Patch. The official Emblem of the City of Jerusalem. The emblem features the symbol of the Tribe and KIngdom of Judah whose capital was Jerusalem -- called the Lion of Judah. The emblem background represents the Western Wall, and the olive branch represents the quest for peace. The inscription above the crest is the Hebrew word for Jerusalem (yerushalayim). Size: 2 1/2 x 3 1/4 inches | 6.5 x 8 cm
This collection of embroidered patches is perfect for the Believer following the Messianic Judaic faith or who love the roots of the Christian faith. They are made of the highest quality. Whether you are a collector of patches or you just want to show the world your faith, these patches are great for your collection. You will receive 1 each of the pictures patched in this collection. You can sew these patches on or use the heat-sealing backing to iron it on to nearly any fabric. You can keep this patch in your collection or they are great for attaching to jeans, jackets, vests, hats, or backpacks.
Review this product
Please log into your account to Add Your Comment.