Israel Defense Forces Patches Collection
Collection of four patches from the Israel Defense Forces, the army of Israel defending the Holy Land. All patches are embroidered and made to the highest quality with clear, vibrant stitching.
Item # : PT020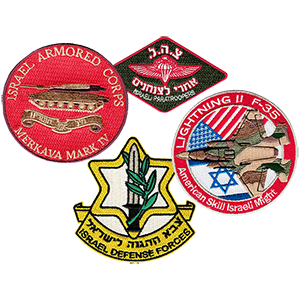 Stock Review
Material:Embroidery - In Stock
Israel Defense Forces Patches Collection, Iron-on or Sew-on
Israel Defense Forces Emblem Patch. Show you support Israel's right to a defense with this colorful Iron-on Patch in the shape of the emblem of the Israel Defense Forces. The patch is brightly colored with a sword in a metallic silver thread. Size: 3 1/4 x 3 1/4 inches | 8 x 8 cm diameter

F-35 Lightning II Israel - USA fighter jet "American Skill Israeli Might". A round embroidered patch celebrating the strength of two great nations -- the USA and Israel. The stealth fighter plane the F-35 is displayed with the flags of these two nations. Along the bottom says, "American Skill, Israeli Might" showing the plane is made in the USA, but their partners Israel were the first to fly it into battle. Size: 3 1/2 inches | 9 cm diameter

IDF Paratroopers Brigade Patch. This patch is just like the patch worn by the members of the Paratroopers Brigade, also called the 35th infantry brigade. These brave soldiers form a major part of the Infantry Corps and have a history of carrying out special forces-style missions dating back to the 1950s. Under the parachute and wings is the motto of the Brigade, "After me, to the paratroopers!" Size: 2 x 3 1/4 inches | 5 x 8 cm

Israel Armored Corps, Merkava Mark IV patch. The Israel Armored Corps (the Tank Corps) is a decisive factor in the battlefield and has played a central role in every war throughout Israel's history. This patch is an updated version of the patch worn by the members of the Armored Corps. The tank featured on this patch is Israel's latest -- the Merkava Mark IV. The Hebrew "חיל השריון" means Armored Corps. Size: 3 1/4 x 3 1/4 inches | 8 x 8 cm diameter
These patches represent some of the most well known branches of the Israel Defense Forces. They are made of the highest quality. Whether you are a collector of militaria or you support Israel and her right to defend herself, these patches are great for your collection. You will receive 1 each of the pictures patched in this collection. You can sew these patches on or use the heat-sealing backing to iron it on to nearly any fabric. You can keep this patch in your collection or they are great for attaching to jeans, jackets, vests, hats, or backpacks.
Review this product
Please log into your account to Add Your Comment.