Gold Chag Sameach Triangle Napkins/Serviettes
Packet of 12 paper napkins or serviettes with "Chag Sameach" in gold written in Hebrew and a lovely tan and gold floral design. They are folded in an appealing triangle shape.
Item # : KN025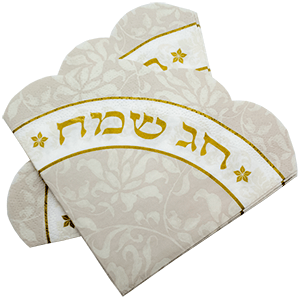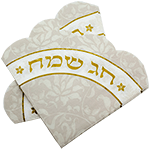 Stock Review
Gold Chag Sameach Triangle Napkins/Serviettes

Celebrate your Judaic holidays with the addition of these estive paper napkins. Written in gold is "Chag Sameach" which means Happy Holiday in Hebrew. This is the traditional greeting in Israel during any holiday or feast day. These napkins are perfect for the Passover Seder, at Hanukkah, the Shavuot table, your Rosh HaShannah celebration or any other time you are celebrating with a delicious meal.

Pack of 12
Review this product
Please log into your account to Add Your Comment.